Are you looking for a Temporary Mobile Number India? If yes then you have come to the right place.
Temporary Mobile Number or Indian disposable numbers are a kind of Virtual Mobile number which generally comes in use to Bypass OTP Verification or SMS Verification on many Apps & Sites.
As you all know, there are hundreds of Money earning apps and websites which ask you to enter your phone number and verify the OTP in order to use those apps and sites. Now if you are someone like me who doesn't want to share his Phone number with every website and app available on the internet due to some privacy reasons, then you can use these fake Indian mobile number for SMS verification.
These Virtual Indian mobile number is not just good for bypass OTP in Money making apps, You can also use these Fake Mobile Number For OTP on anywhere on the internet where you require to enter your phone number. For example – You can use it to Bypass Gmail account verification or Social media Verification.
Read also – How to see saved wifi password in android without root
What Are Temporary Mobile Number India?
Temporary phone number India is a kind of Free disposable mobile number that can be used for a call or message a person anonymously online from anywhere in the world. But these days temporary mobile number is commonly used to Bypass OTP Verification on Apps and Sites. The beauty of a temporary number is you can easily dispose the number once the task is finished.
This guide is only for Education purpose, If you use the temporary or disposable mobile number for any illegal purpose. Then Droid Sprout is not responsible for any of your illegal actions.
Features Of Indian Disposable Phone Numbers:
No Registration Required – One of the best things that I personally like about these temporary Indian Phone Numbers is that you don't need to register or signup in order to get a disposable number. You can just go to the website and get instant access to a random phone number.
Get Instant OTP Code – If you are using these virtual mobile numbers for SMS verification then you don't need to wait for 10-15 get the OTP. Here OTP is available within seconds of being received.
Free Of Cost – You will be never charged a single penny for the SMS you receive there. you are free to use their service for free of cost.
New numbers added every month – New numbers are added and rotated every 30 days.
Countries from the globe – As this post is mainly focused on fake Indian mobile numbers for SMS verification to help Indian users. But it doesn't mean you have to choose only a temporary Indian phone number you can choose any preferred country like the United State, Canada.
Recommended Reading – How to Download Hotstar Videos From PC & Android Mobile
Why use these disposable mobile number?
I believe that there are many reasons why you may want to use Disposable mobile number. Here are few of the common reasons why most of the person use a Temporary number.
You can use it to Verify OTP for any apps or sites.
You can use it to register or signup on any websites on the internet.
Want Unlimited Disposable Numbers for doing App Refers
You can use it on Online Dating, In case if you don't want to give your real number on the first date for security reasons.
If you are a freelancer then you may want to use a Temporary mobile number for a one-time served consumer.
You can use these temporary phone number India to signup social media platforms like what's App, Hike, Telegram and so forth.
While buying anything online using a virtual Indian mobile number is recommended to avoid unnecessary and random spam or promotional calls
I hope now you have a good idea of what is temporary number and whats are its use. Now without wasting any time lets move to How you can get a Temporary mobile number.
Read also – How do you fix an Android phone that keeps restarting?
Method 1: How to Get Temporary Phone Number Online?
Step 1 – First of all visit this Indian disposable phone number site – Click here
Step 2 – Now you'll notice that they are many Temporary Indian mobile numbers as well as other country mobile number listed there. So just choose any of the number and copy the number.
Step 3 – Now go the website or app where you were required to enter the number and paste the number.
Step 4– Now go the free Indian Disposable mobile number site again and there you have already received the OTP. So just copy the OTP and paste it where it is required.
Step 5 – Done you have successfully used fake Indian mobile numbers for SMS verification.
List Of Websites Who Provides Indian Temporary Mobile Number For OTP Verification Online
These were few of the sites who provide Free temporary Indian mobile numbers.
Read also – 9 Interesting Things To Do After Rooting Android Smartphone
Method 2: How to Get Disposable Mobile Number For OTP Using Mobile App?
Not just website there are many temporary mobile number apps for OTP available for all Indian, US and other country users. Most of the apps are free to download and below I have listed some of the most used fake Indian mobile number generator apps for OTP.
1. 2ndLine
2ndline is one of the most popular free disposable mobile number apps which helps you get the temporary mobile number to bypass SMS verification on Whatsapp, Gmail or any other site.
This app is available for free to download on the Google Plays store. You will get mostly Free US phone number on this app. Let's see how it works:
Step 1: First of all download and install the 2nd Line app on your phone.
Step 2: Niw open the app and create a new account with your email address.
Step 3: Then tap on don't use location.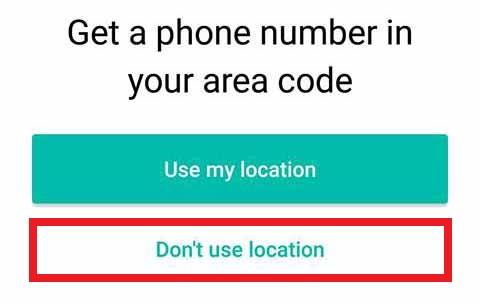 Step 4: Then enter any US area code like320, 501, 620, etc. and then tap on Continue.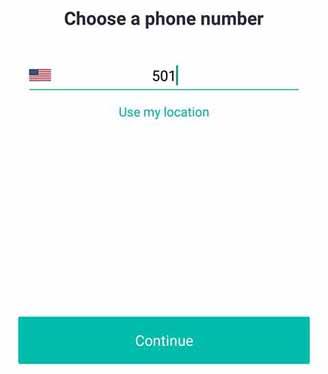 Step 4: Now select any number from the given list.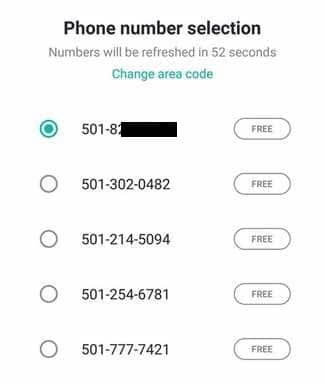 Step 4: That's all finally you have got your temporary US number, Now you can use this number anywhere.
Features Of 2ndLine:
Private Number
100% Free to Use

SMS & Call Verification

Check SMS, Call History, International Calls, etc.
Change Number Anytime
Use any Area Code you want.
---
2. TextNow
TextNow is another free disposable phone number app for android devices which allows you to get a Free temporary number to call, send and receive messages, etc.
This app also has a very similar user interface like 2nd line, so let's have a quick look at how this app works:
First of all download and install the TextNow app on your phone.
Once you have installed the app, launch the app and create a new account.
Then click on Don't Use the Location button.
Now enter the area Code of any location in the US and choose any number from the list.
Features Of TextNow:
100% Free to Use Number
International US Numbers
Unlimited Text & Picture Messaging
Change Current Number anytime for FREE
Recommended Reading – How to remove Your Number from Truecaller App
Wrapping Up
This was the complete guide on How to get Temporary Indian Mobile number within a few seconds. It's not a bad idea to use a disposable mobile number in today's world. Because today whenever you register to a website or app with your personal mobile number, immediately the app or website starts sending you promotional messages and calls. So, it's better to use a disposal number wherever you are not sure that your privacy is secured. And the best thing is it is not actually hard to get a disposable Indian number, you can easily download an app or visit a site and get a disposable mobile number for free of cost and use it anywhere.