'Who viewed my Instagram profile', 'who viewed my Instagram story, video or photo' – If you're an Instagram enthusiast then these thoughts must have crossed your mind many times.
There is nothing bad in wanting to see who is impressed by your creativity and checking you out on this popular social media platform.
While most of the Instagram users will follow you in order to see your photo and profile, but at the same time, there are quite a few who will just check out your pic and profile and never follow your accounts or like your photo. In that case, you might want to know who secretly viewed your Instagram profile and photo.
So, in this tutorial, let's find out how to track such profile visitors who don't care to follow!
Read also : How to stop Facebook messenger to automatically save down images.
How to see who viewed your Instagram Profile?
If you are someone who is very curious to know who viewed your Instagram profile, then get ready for some disappointments. Because Currently, Instagram doesn't let you know who has visited your profile. They don't have any official reporting system or an in-built feature that shows you who views your Instagram profile and there is a big and obvious reason behind that – That is user's privacy.
Actually Instagram has all the data you would need to check who viewed your profile but fortunately or unfortunately they aren't sharing it with anyone, not even you. Because it could lead to a significant drop in user engagement on this platform.
Now you must be wondering how it could lead to drop in user engagement on Instagram.
Well, since a significant number of Insta users spend their time just checking out others profile and photo without posting anything on their own profile, so if Instagram share data regarding their activity then there is a high chance that they will stop using the platform and it is obvious that no business wants that.
Read also : How to check who viewed my whatsapp profile.
Gone are those orkut days, where we could easily find out who walked into our profile.
Using Third-Party Apps to See Who Viewed Your Instagram Profile
If you go on Playstore or app store and search for "Who viewed my Instagram profile" You will find plenty of apps for android as well as ios devices which claims that they can tell you who views your Instagram account. Apps such as who viewed my profile,  Reports+ For Instagram, Social Track and Social Fans, are some of the popular apps with millions of download which claims to offer this functionality.
The question of the hour is, do these apps actually work?
Nope!
These apps just pretend to work and show you a list of the random Instagram profiles which keep changing every time you open the apps to make you feel that it is showing actual data to you.
Secondly and most importantly these types of apps run the risk of being a major privacy threat as they collect all your profile data as soon as you log in with your Instagram account in these apps and give access to all your data.
Recently an app named Shady which lets stalkers view private Instagram accounts in exchange for their own data was found misusing the user's data and when the Instagram team came to know about this scam they removed this fake app from play store.
These types of apps make money by usually charging a small amount of subscription fee for their fake service as well make lots of money with all kinds of annoying ads appear on their app.
Going through user reviews on the Play Store and App Store will paint the same picture.
The reason behind why all these apps don't work is quite simple and straight forward. Instagram's Graph API, which was introduced earlier this year, is much more restrictive than the older Instagram API platform. This means that apps that haven't been approved by Instagram itself to use the API, lose the ability to access the API altogether.
So please as you are a reader of Gadget sprout blog we will never recommend you waste your time in trying all these fake apps.
But please don't get disappointed let us show you a good alternative method to know who viewed your Instagram profile.
Read also – How to turn off Tumblr safe mode?
How to see who viewed your Instagram story
Even though Instagram doesn't let their users access to a feature with which they can check who's visiting their profiles, the latest popular Instagram stories feature is the best way to do so.
Now Instagram shows you the profile of all the people (including those who don't follow you) viewed your Stories and Highlights. So, it is a good way to check who all have recently visited your profile.
All you need to do is open one of your story and swipe up. Click on the eyeball icon and this will bring up a page showing who has viewed your Instagram story.
Here you can also block any users who you don't want to share your Stories with by tapping on the cross icon. Since your Instagram Stories will expire after 24 hours, you'll have to check the list on a daily basis in case if you upload stories on a daily basis.
Read also – How to hide Comments in instagram live?
Using Instagram Business Accounts to See Who Views Your Instagram Profile
Now as we already told you that you can't see exactly the name of persons who visited your Instagram profile, there is still a way to get the exact numbers of people an impression your Instagram profile brings.
Yes, if you go to your Instagram setting and create a business account then it is possible to see your accounts stats and see how many views your Instagram gets!
You don't have to be a business to qualify for converting your personal account into a Business account. It will just ask you to link your Facebook page and you are good to go.
Once you have a business account you can see three important things:
First of all you can get the details on the impressions and reach from your post plus the number of website clicks from your business profile.
Next, you can see your Instagram posts and the number of views your Instagram gets in terms of engagement, follows, impressions and more.
You can also sort the list with filters to see posts based on that specific criterion.
Finally, you can see your audience. This will give you a clear idea of who views your Instagram profile, their age, which country they belong from and when they are most frequently online.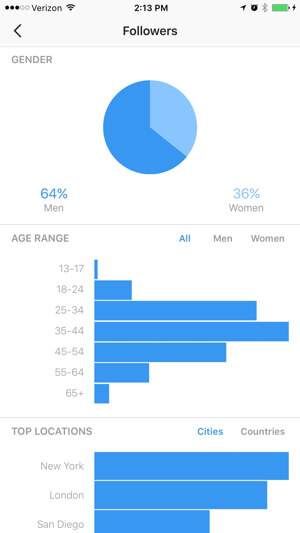 So if you are someone who is interested in these types of data then just create a business account for yourself and you are good to go.
Conclusion: Can I See Who Viewed My Profile on Instagram?
So, if you are still wondering whether you can see who viewed your profile on Instagram, then sadly currently there is no way which would let you see the names of your exact profile visitors.
The only workaround, which involves checking who's viewed your Instagram Stories but that also can't give you accurate details of your profile visitors as it only shows all the users who viewed your Stories and doesn't account for all the users who went through the posts on your timeline.
Third-party apps, as we have already mentioned are of no use and it will definitely a waste of your time and money.
If you are interested in knowing how many people visiting your account, how much impression your Instagram post gets and other such details without getting the user's names, then you can convert your personal account to a business account and check all the stats.
Tell us about your thought on Instagram's strict data sharing policy, Is it a good or bad thing that Instagram does not share the data of people who visit someone's profile?
Featured image credit – https://www.socialbakers.com/